This is Zack's first solo album. Shred Academy's review noted: "Zack Uidl's solo album, Insomnia, is a show stopper for anyone into progressive music and a high level of musicianship. Oh yes, there is also a truck load of shredding. The record is a mind bending aural assault that is simultaneously pleasing and terrifying."
Zack recorded all guitars and keyboards for this progressive-death metal album written by David Beaumont of the UK.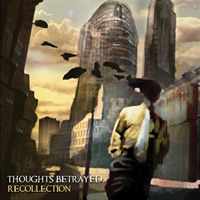 The style of Thoughts Betrayed is influenced by artists such as Nevermore, Dream Theater, Symphony X and Outworld. Showcasing guitarists Zack Uidl and Dave Cardwell, the midwest-based Thoughts Betrayed features melodic vocals, technical lead guitar work and complex rhythms.
---
Guitar virtuosos Zack Uidl and Jeff Treadwell have collaborated to create an epic 24 minute masterpiece. This progressive-metal journey covers ground that fans of Opeth, Evergrey, Dream Theater, Nevermore, Symphony X, and Porcupine Tree will love!
This package includes the MP3 and the cover art. Available as a download (you will receive a download link for this product shortly after your purchase is received).
These are the complete transcriptions of every guitar section on The Evolution of a Tainted Fate EP.
Zack Uidl and Jeff Treadwell have carefully notated every acoustic guitar, clean guitar, heavy rhythm guitar part as well as every note of every lead guitar melody/solo. There are 392 pages of guitar mastery shown here! Both PDF and Guitar Pro files are included with this project
Jeff Treadwell and Zack collaborated on this eBook covering how to make your guitar sing and scream by using precise bending and vibrato. Having a good vibrato is something that really separates the great players from the merely good. Many players have poor or sub-par vibrato and bending technique, but you do not have to be one of them. Master your bending and vibrato technique and join the ranks of true guitar masters!by Jeff Treadwell and Zack Uidl
By Zack Uidl and Zach Cannella.
The Ultimate Guide to Scales and Modes from Guitarists was created with one idea in mind. We wanted to provide guitarists with a simple to use, easy to understand, and complete reference guide to all the scales and modes that they would ever need.
In this expansive 61 page e-book the scale and modes shapes are not only explained, but also the music theory related to them. This allows guitarists to easily be able to use and apply these scales and modes in the desired keys and tonalities.